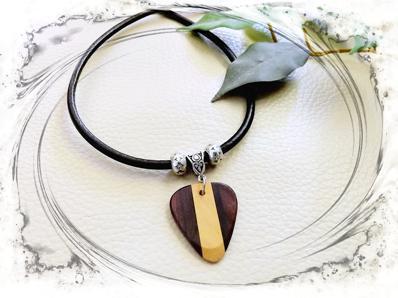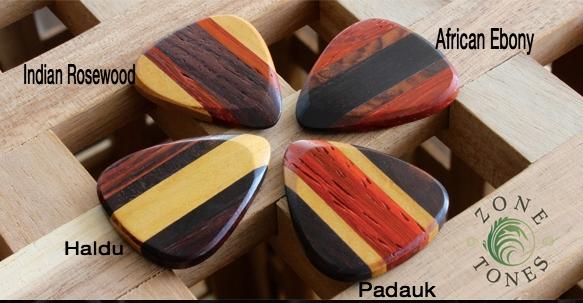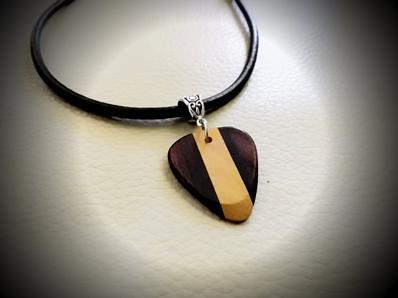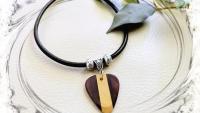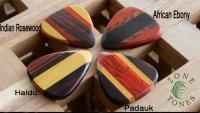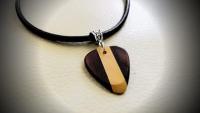 Premier Collection "Zone Tone" Guitar Pick Chokers
Premier Collection Zone Tone Guitar Pick Chokers 
Music Jewellery Online are proud to announce the arrival of our high end premier collection range!
Using a high quality genuine 4mm leather cord with a solid clasp these pieces are designed for anybody looking for that "little bit extra special" piece of jewellery!
Zone Tone guitar picks or plectrums depending on where you hail from are traditionally used for acoustic and electric guitar and crafted by laminating together 3 different types of timber to produce a clean and crisp tone.  
Chrissie C sourced these picks and we have crafted them into unique chokers which you can tailor your style and design so you are "ultra unique"!!
STEP 1: Choose your pick design from our range of  African Ebony, Haldu, Padauk or Indian Rosewood.
STEP 2:  Decide if you want your choker "Classic" or "Classic Plus" which we add 2 spacer silver beads for a more dynamic look!
STEP 3: Decide which length you prefer.  We generally advise the fellas prefer 48cm or 52cm whilst our ladies or those with a smaller neck tend to opt for the 45cm.
STEP 4: Rush your order over to us and let us craft up your choker! (please allow 48 hours for the crafting process before despatch)
Your choker will then be prepared with care and gift wrapped in a black velvet pouch.
We have tried to photograph these picks as realistically as possible but please note there may be a level of variety due to the nature of using natural materials.
---
What Our Customers Say...